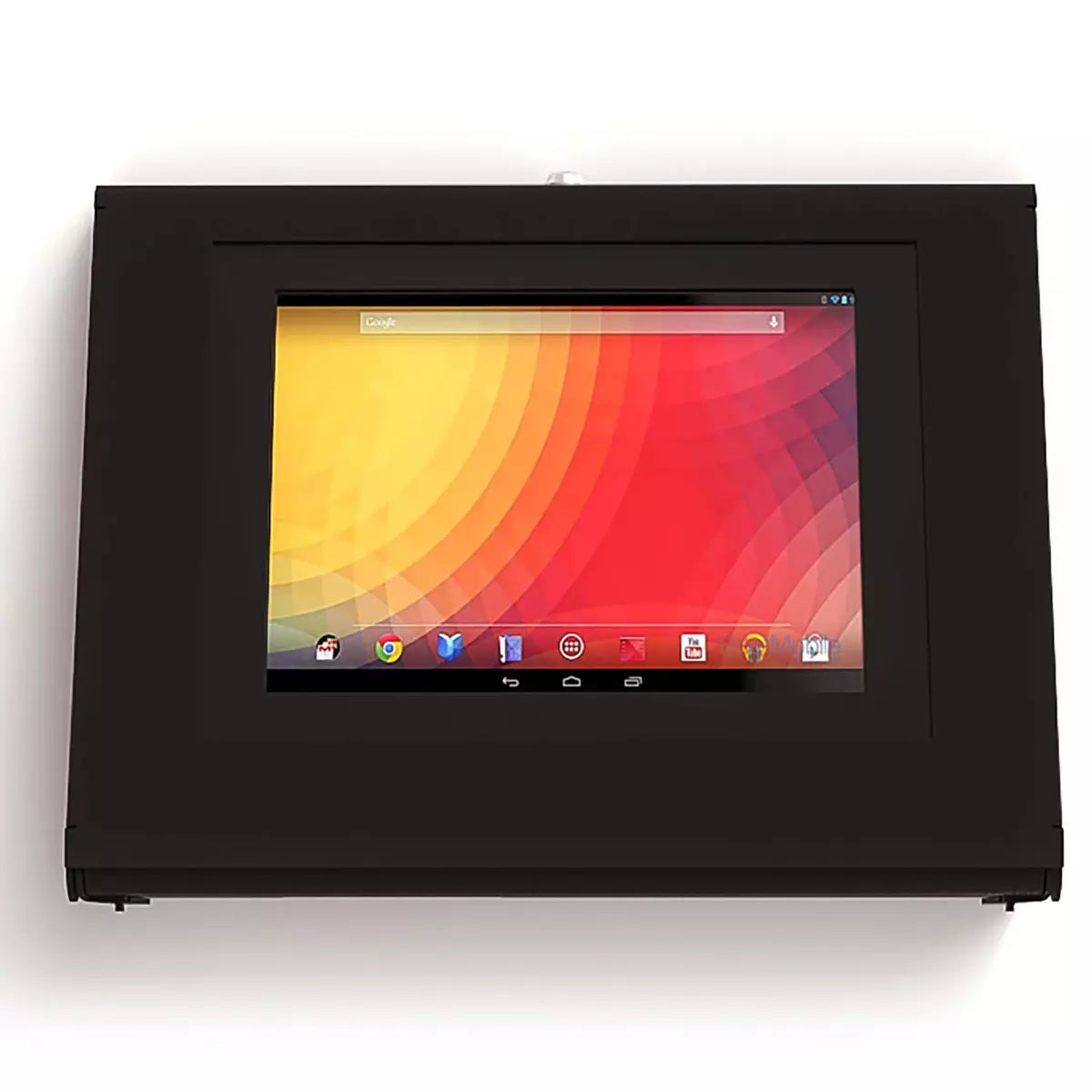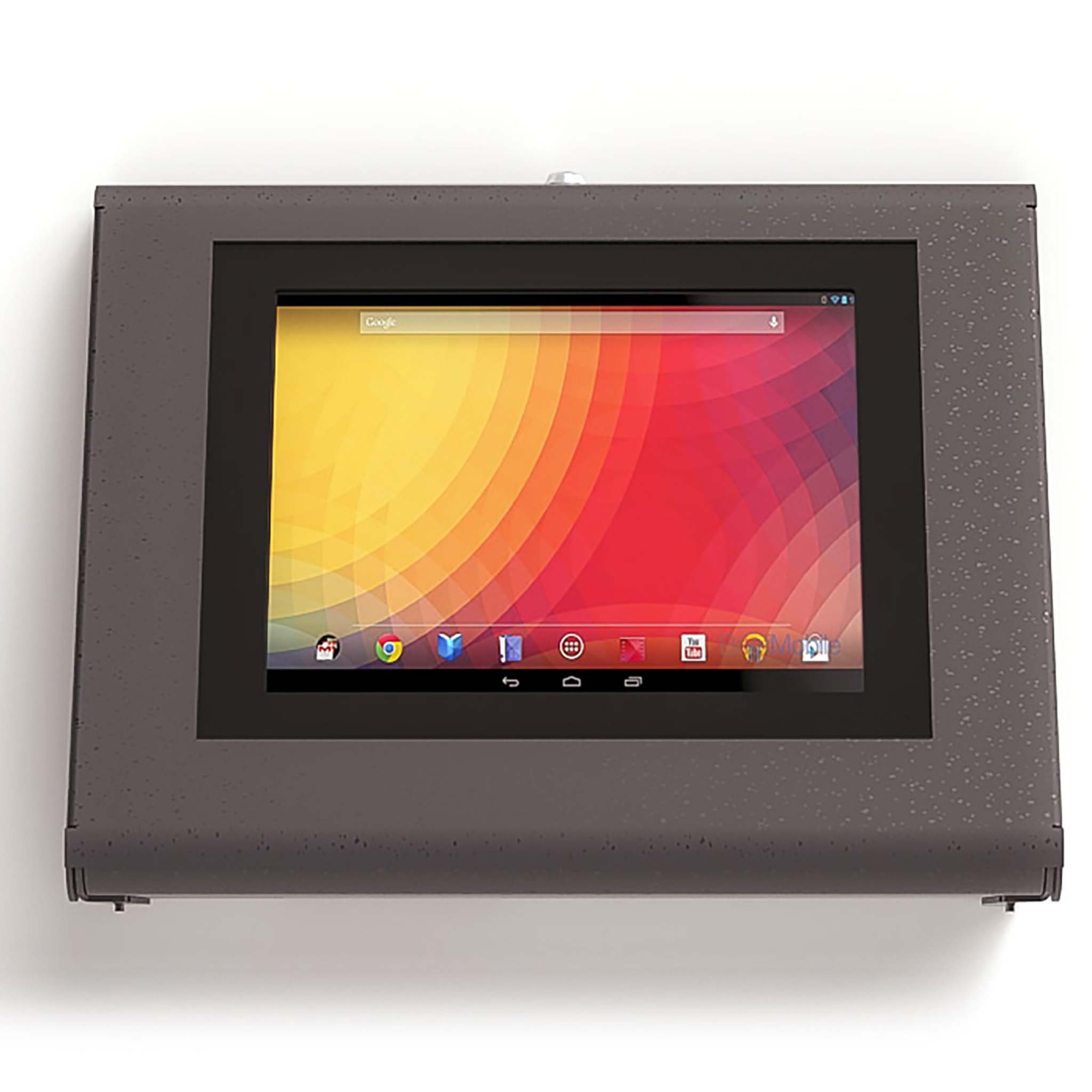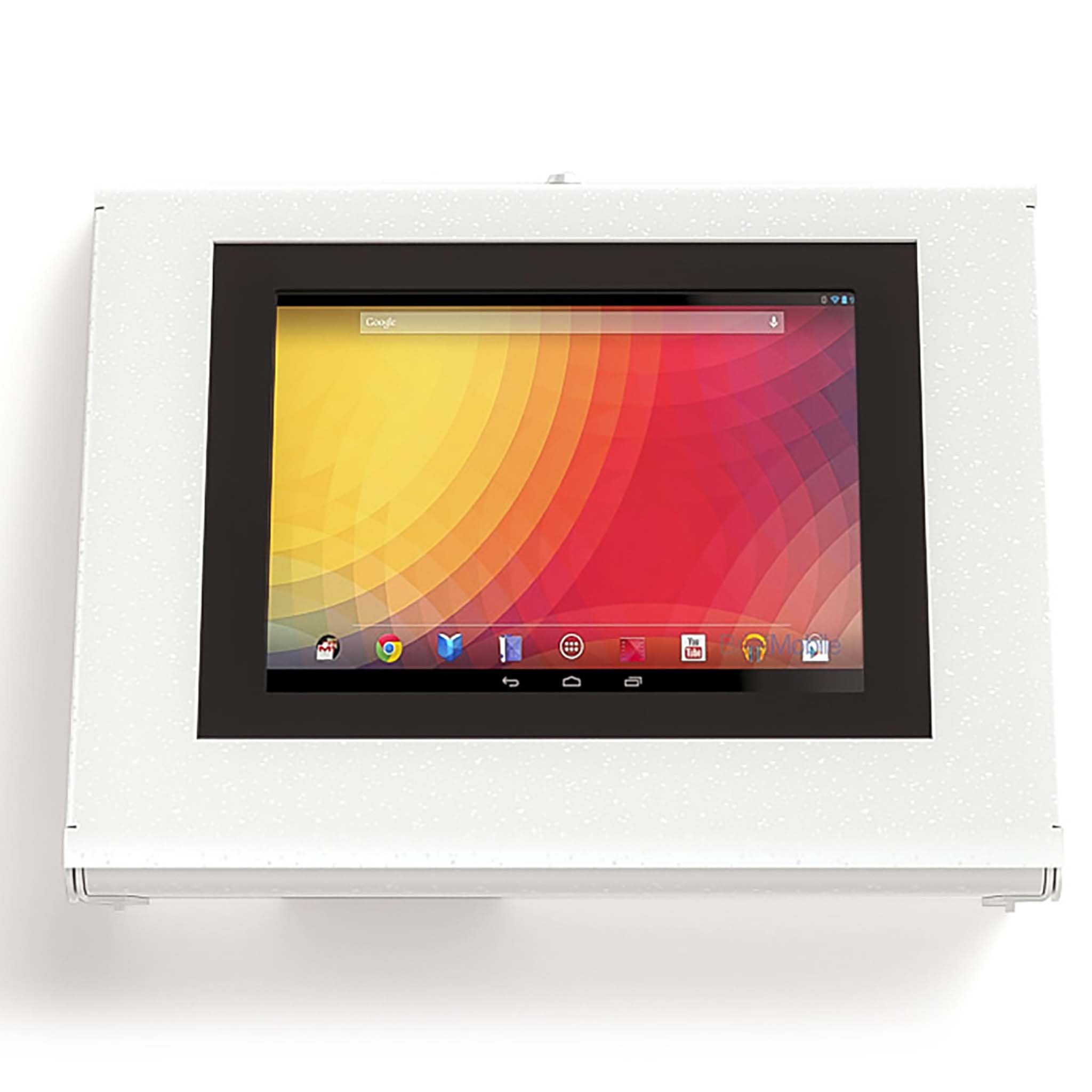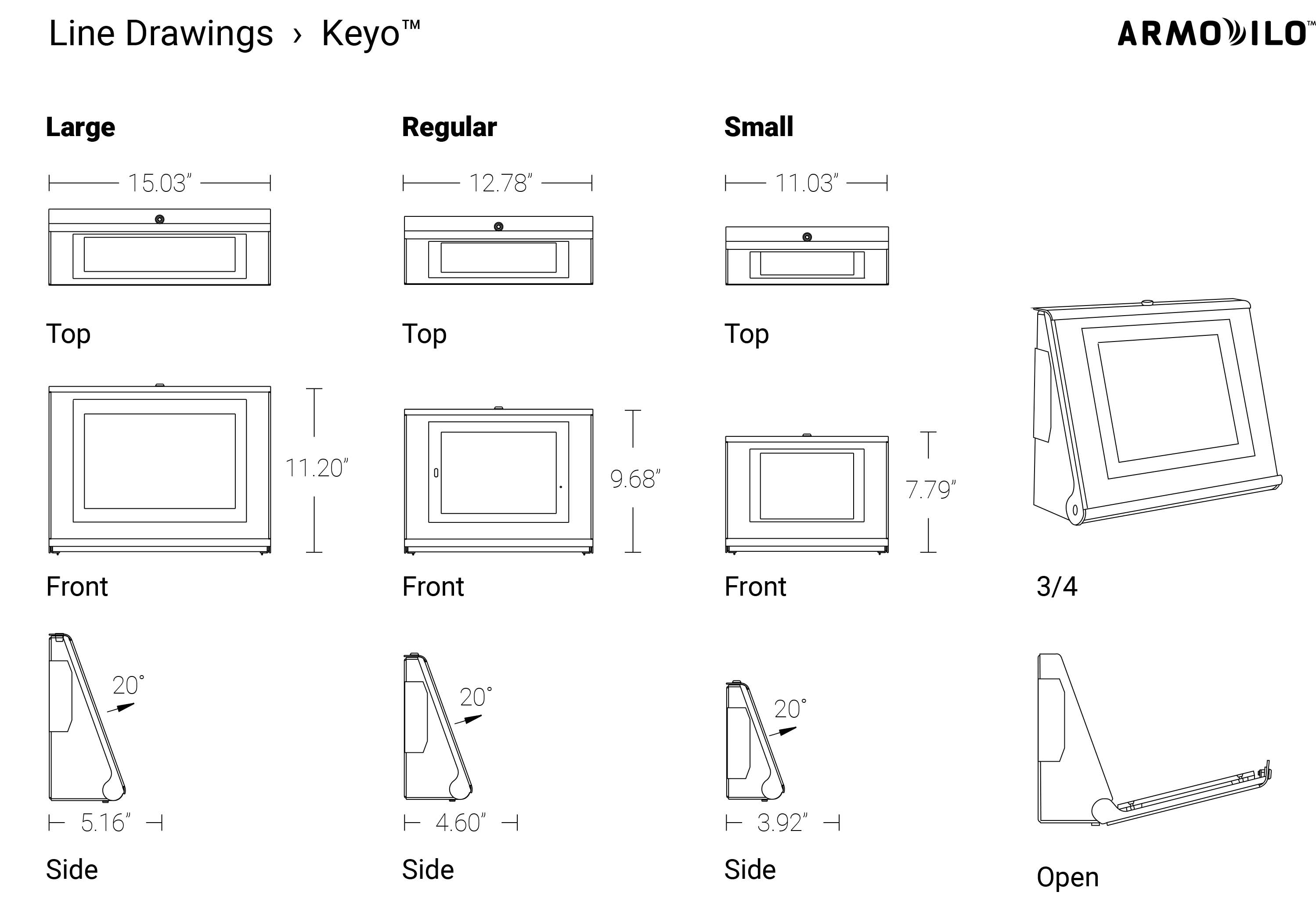 Keyo Surface & Wall Mounted Tablet Enclosure
---
Looking for an easy and secure way to mount your iPad or tablet to a wall or surface? Look no further than the Armodilo Keyo™, a locking  iPad & tablet enclosure designed to create secure, streamlined surface and wall mounted tablet installations in any environment.
Crafted from formed steel and aluminum with rivets for added structural integrity, the Armodilo Keyo™ features a surprisingly slim design that mounts securely to any wall or surface. With the option for power routing, peripherals, and add-ons such as Power Over Ethernet (PoE) boards and USB hubs, this locking tablet enclosure is perfect for use in retail stores, hotels, and corporate settings where security and functionality are key.
Whether you're looking to deploy a tablet as a digital sign, interactive kiosk, or point-of-sale system, the Armodilo Keyo™ locking iPad wall mount kiosk and tablet enclosure is the perfect solution. So why wait? Invest in the Armodilo Keyo™ today and take your tablet mounting game to the next level!
Don't see your tablet listed? Check our complete list of supported devices.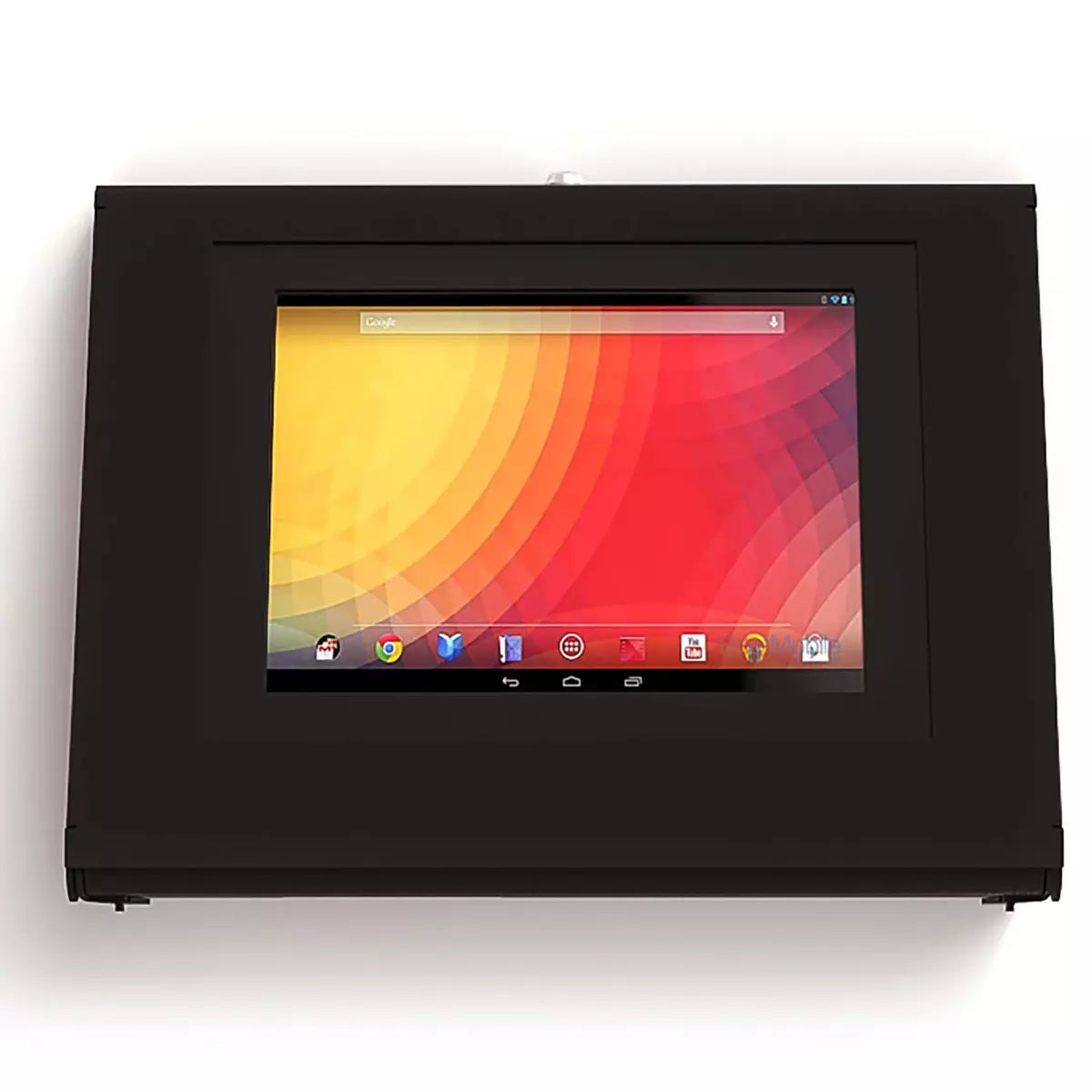 This product has no reviews yet.
• A locking tablet or iPad kiosk to mount on any wall or surface.
• Formed aluminum tablet or iPad security enclosure with rivets for increased strength.
• Easy-open front access with secure key lock.
• Easily cleaned and disinfected.
• Ample room inside for cables and peripherals.
• Mount over electric wall plate for easy power routing.*
• Interchangeable side panels to easily add peripherals.
• Limited Lifetime Warranty.
• Multi-tablet capability using a new Tablet Fit Kit™ system.
• Available in 3 standard sizes and colours.
• Available in landscape format (ask about portrait availability).
Keyo is perfectly suited for tablet kiosk installations over a wall plug,* or where additional peripherals like Power Over Ethernet (PoE) boards, USB hubs or biometric scanners are housed within the security of the enclosure. Whether mounted to a wall or a surface, Keyo provides versatility and additional space behind the tablet for a variety of specialized deployment requirements.

Keyo is designed to provide ample room for tablet kiosk accessories and peripherals to be integrated directly into the enclosure and even provides the option of mounting your tablet or iPad kiosk directly over an electrical wall plug*. Whether you're using a Power Over Ethernet adapter, USB hub or other add-on, Keyo provides the room you need to grow.
Keyo uses a new Tablet Fit Kit design to allow for a wide variety of tablets to be used with this product range, including all models of Apple iPad, Samsung Galaxy Android tablets and Microsoft Surface tablets. Three sizes of enclosure are available and tablets of similar size can easily be swapped out by simply upgrading the Tablet Fit Kit, just like our Original tablet enclosures.

Keyo positions the tablet on a 20 degree angle that creates the perfect viewing angle on both surface and wall mount kiosk installations, creating easily accessible secure tablet experiences in retail, healthcare, hospitality, tourism and many other industries.

With Keyo's versatile and changeable side panels, peripherals can easily be added even after the units are deployed. Whether your goal is a tablet security mount or an installed iPad POS enclosure, Keyo's side panels can be interchanged for panels specifically designed for a variety of peripherals including Magtek's Dynamag and eDynamo card readers, biometric scanners, and more. Talk to us about custom integration options.

Three sizes, three colours

Available in Sky White, Black and Gun Metal Grey, Keyo comes in three sizes to fit small, medium and large tablets up to 12.5" wide. All Apple iPad, Samsung Galaxy, and Microsoft Surface tablets are supported.

Unimpeded Wi-Fi & Bluetooth
The integrated ABS plastic frame from the Tablet Fit Kit design not only allows for easy tablet updates down the road but also ensures that the tablet does not touch any metal components, letting Wi-Fi and Bluetooth signals flow unimpeded between the tablet and any peripherals.

*Mount over electrical wall plate depends on the tablets power adapter sizing, please ask your representative for details. | All images shown are for illustration purposes only -- final product may vary slightly due to product enhancements.
• Armodilo Keyo™ Locking Tablet Kiosk.
• Tablet Fit Kit™ for tablet as ordered.
• 2 x Keys for key lock.
• 2 x replaceable side panels.
• Setup instructions.
Customize your Keyo™ iPad and tablet enclosure with the right options for your project. Our wide range of accessories and branding options will help to ensure that the Keyo™ meets the needs of any project.
Have questions? Get answers about all of our products before you buy. Call us at
1.800.975.5946 to talk to a knowledgeable customer service representative today or
reach us using our live chat service.