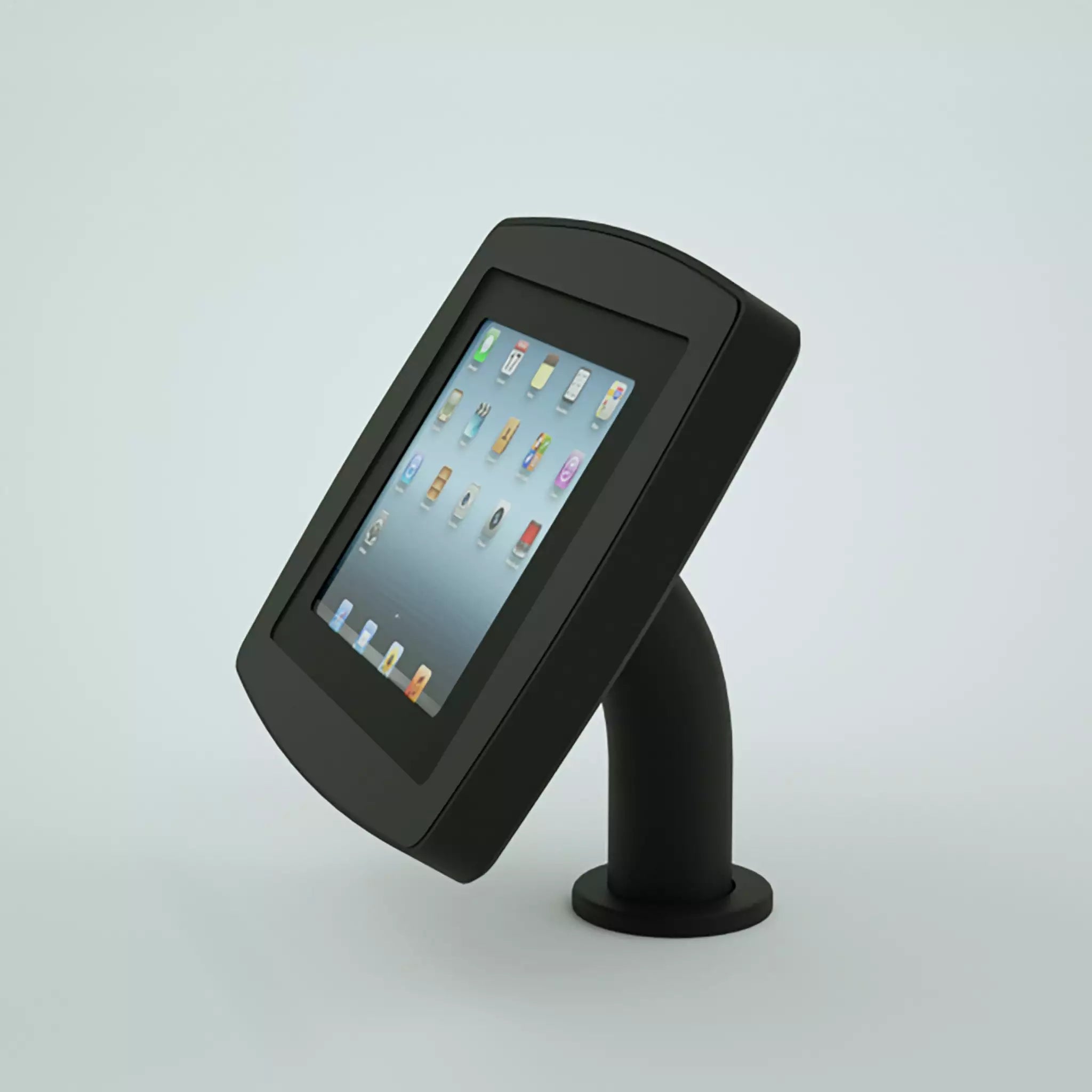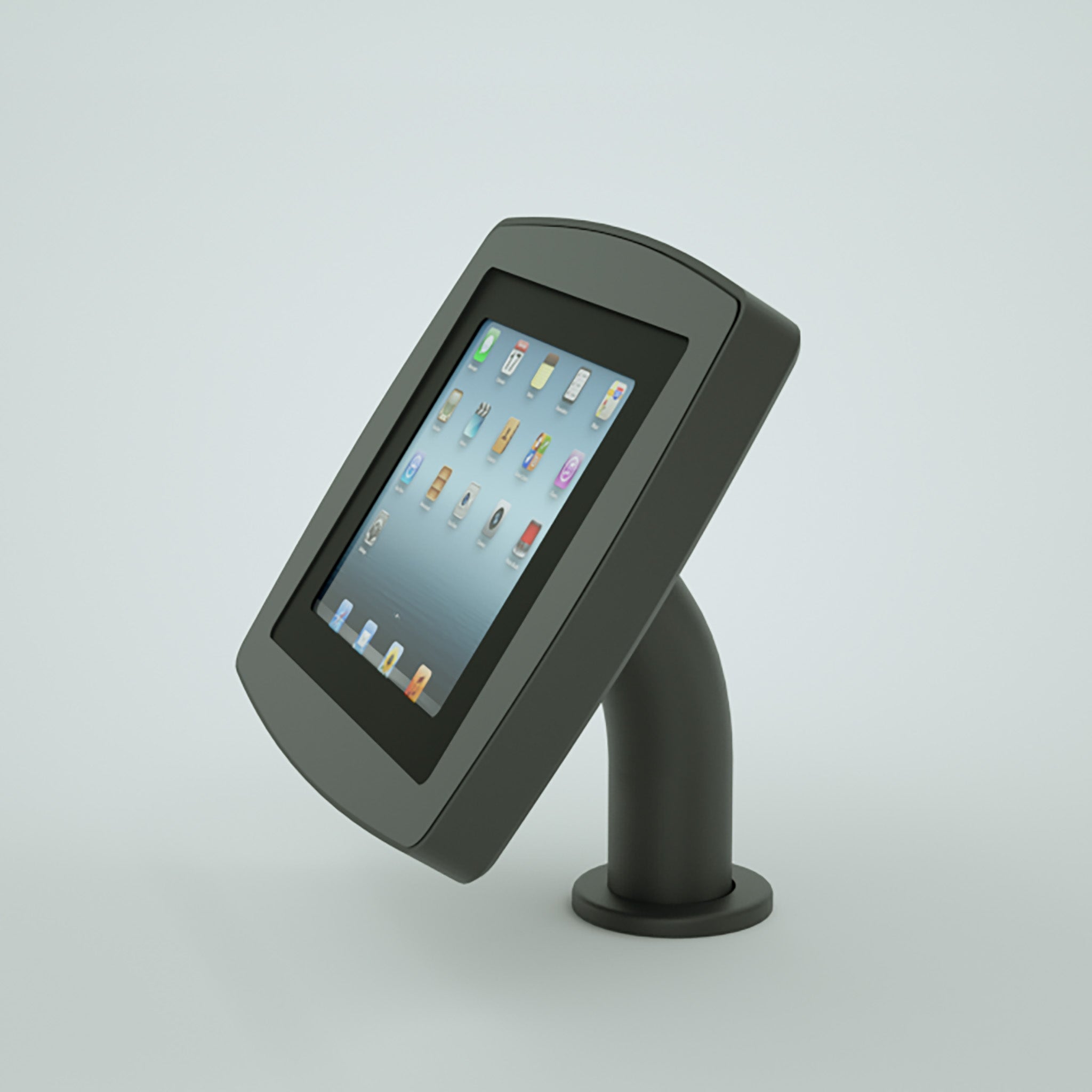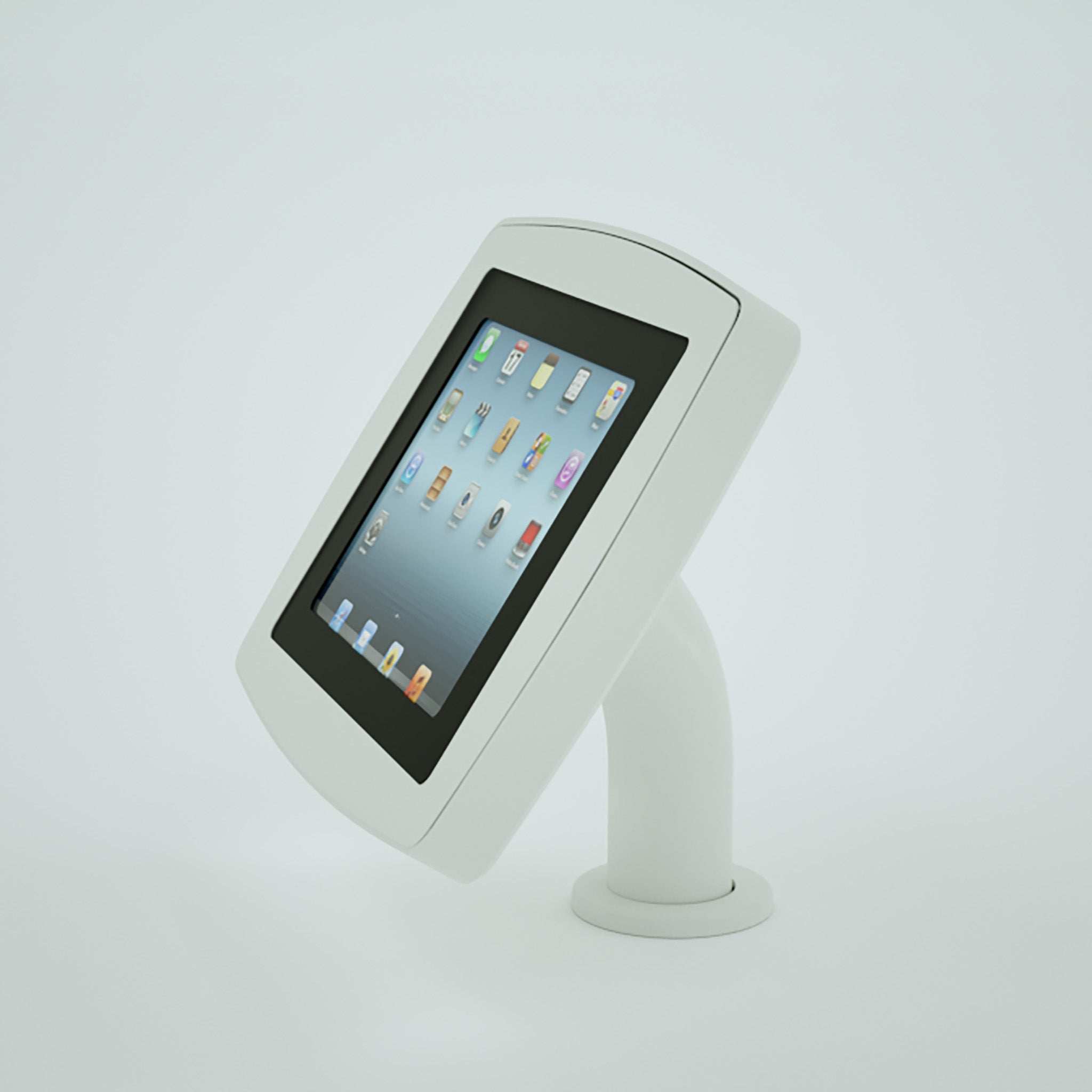 Surface Mounted iPad & Tablet Enclosure
---
Looking for a secure and interactive way to mount your iPad or tablet kiosk to a wall, table, or desktop? The Armodilo Surface Mounted iPad & Tablet Enclosure has you covered with its sleek and secure design, bringing new dimensions of interactivity to any environment.
in addition to its award-winning design, the Armodilo Surface Mounted iPad & Tablet Enclosure includes a fully-enclosed, shatter-resistant housing, fully-integrated cable routing, WiFi signal transparency, and landscape/portrait setup flexibility. 
For additional interactivity and accessibility options in your Mounted iPad & Tablet Enclosure, the ArmoTwist rotational mount allows up to 360˚ rotation and 50˚pivoting movement, while the a swivel base for creates multi-user desk-mounted experiences. With its easy installation and low-footprint design, the Armodilo Surface transforms any space for interactivity.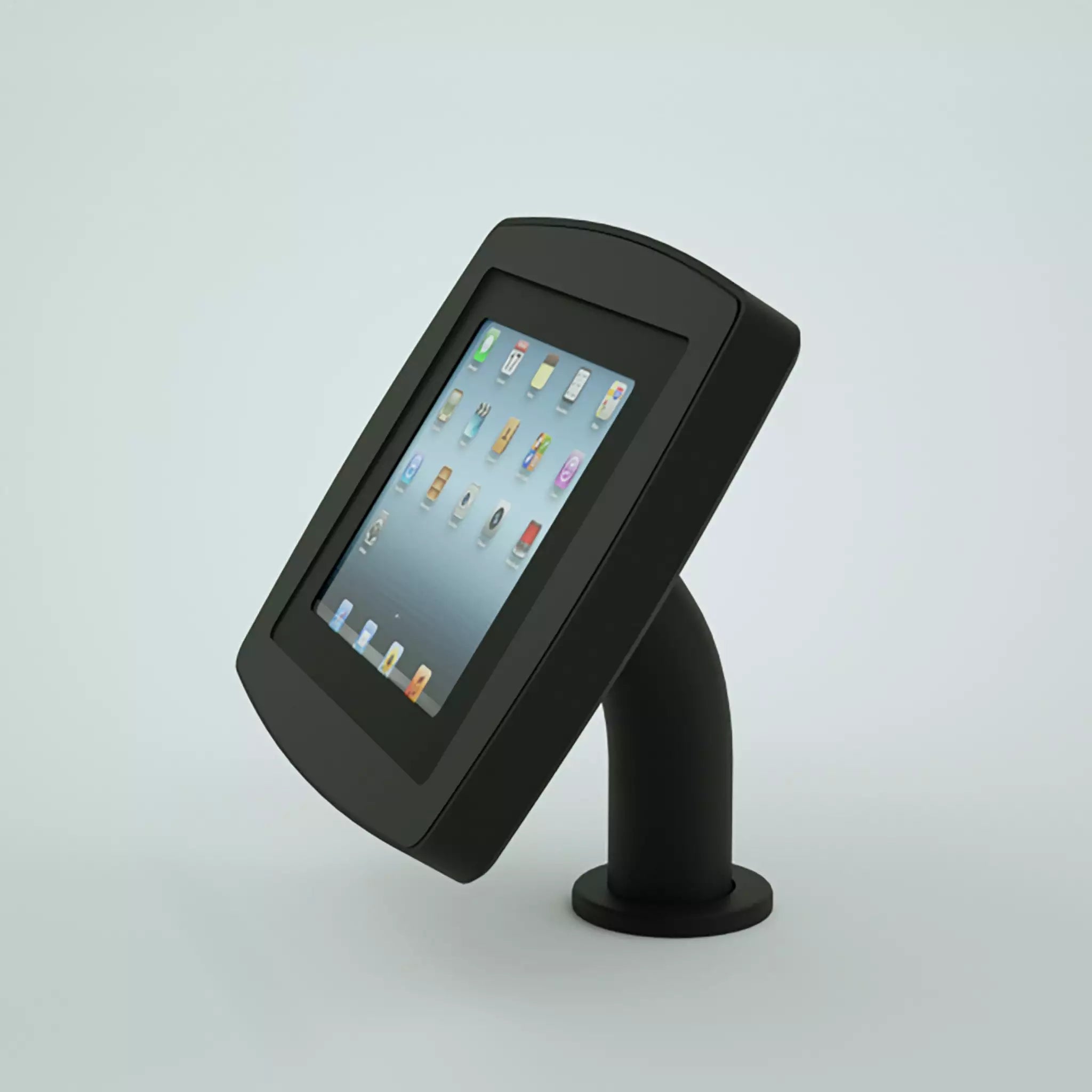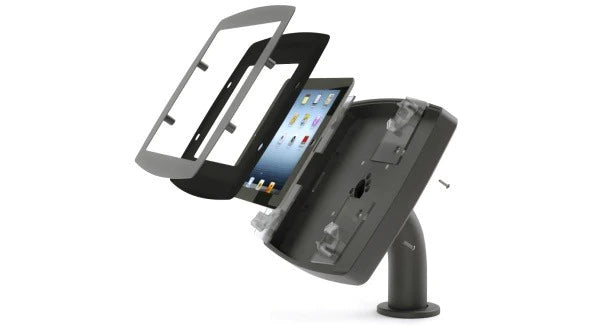 Features and Benefits
Limited Lifetime Warranty.
Durable lightweight aluminum & ABS build (only 5lbs).
Multi-tablet capability using our Tablet Fit Kit™ system.
ArmoLock™ security screws.
Easily cleaned and disinfected.
Quick Connect port for quick wiring or added security.
Tablet and iPad desk stand can be set up in landscape or portrait mode.
• Fully integrated cable routing for a cable-free look.
• Many accessories available for personalized branding and ease of use.
One Surface – Infinite Flexibility
Whether it is used as a wall-mounted information kiosk powered by a tablet or iPad, as a desk stand for a point-of-sale (POS) system, or as a secure tablet mount for shareable screens, the Armodilo Original Surface provides a secure housing with seamless design for your touch point deployment while enhancing any countertop or wall with a fully-interactive display. The Armodilo Surface is ideal for installation in retail, showroom, corporate, and hospitality environments.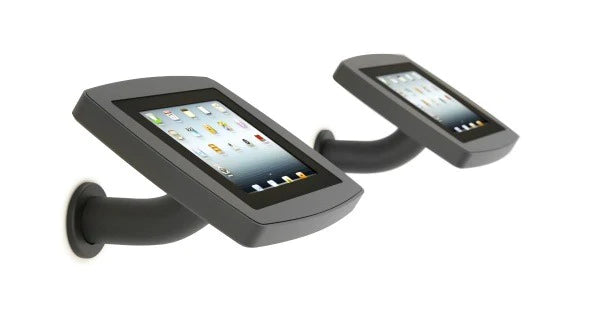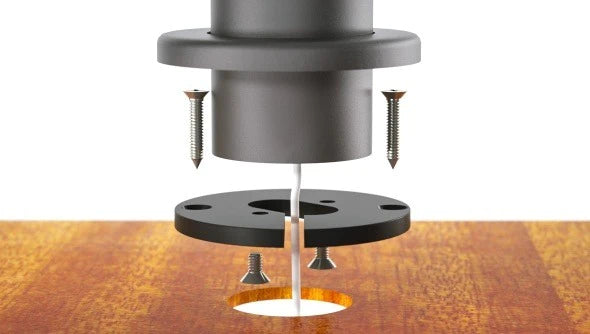 Easy Technology Upgrades
The Armodilo Original Surface is designed to be installed once, and only once. With its enhanced security and solid aluminum design, you can rest assured that your iPad or tablet will be safe and sound. Better yet, our Tablet Fit Kits™ and modular add-ons make it easy to upgrade your kiosk enclosure installation to any iPad, Microsoft Surface or a wide variety of Android tablets you choose without dismantling it.
No wires, no mess
The tablet enclosure and aluminum armature of the Armodilo Original Surface allows all cabling and wires to be hidden within the enclosure, providing a clean and secure iPad or tablet touch-point experience that cannot be tampered with.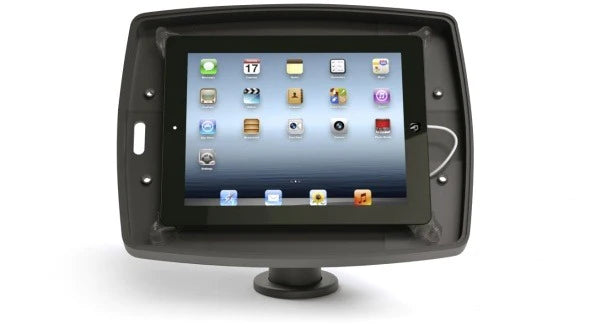 What's in the box?
Full surround ABS plastic VESA mountable iPad and tablet enclosure.
Steel faceplate cover.
Surface mountable tablet stand (aluminum tube, mount plate and mount plate cover).
Tablet Fit Kit™ for tablet as ordered.
5 x ArmoLock™ security screws and ArmoDriver.
3 x 1/4-20 screws and driver.
2 x Wood screws.
Setup instructions.

Customize this product
Customize your Surface desktop iPad and tablet enclosure with the right options for your project. Our wide range of accessories and branding options will help to ensure that the Surface meets the needs of any project.

Contact us
Have questions? Get answers about all of our products before you buy. Call us at 1.800.975.5946 to talk to a knowledgeable customer service representative today or reach us using our live chat service.