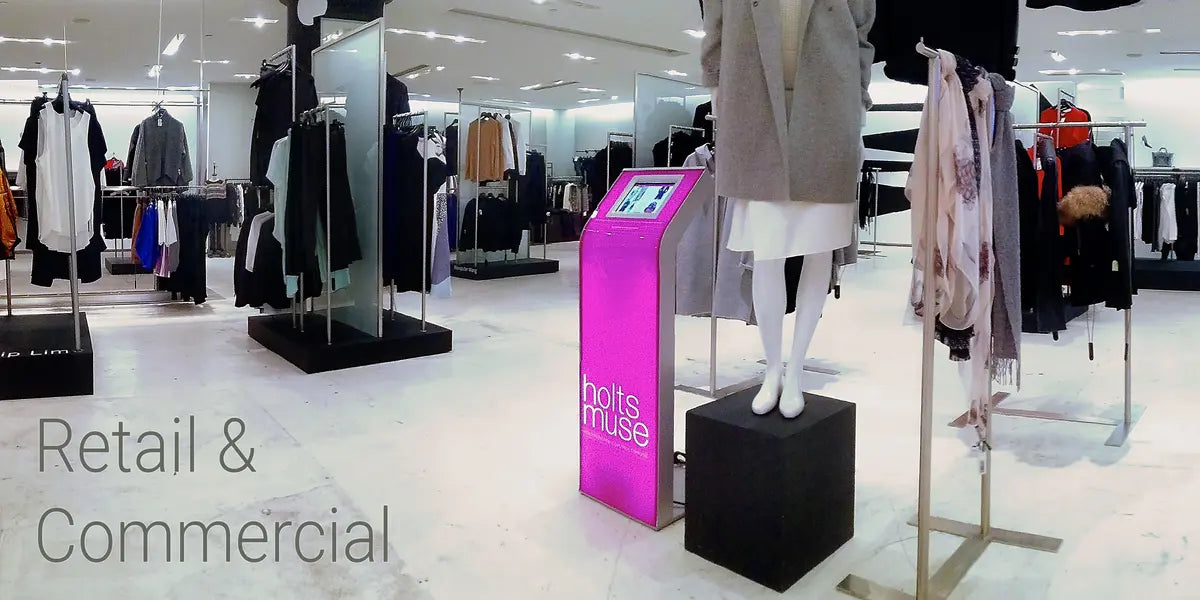 Retail & Commercial
Tablets kiosks are finding their way into just about every aspect of retail operations, whether it's the use of an iPad enclosure for POS or a tablet kiosk helping shoppers find and research products. Tablet kiosks are speeding up everything from transactions to credit applications, and top retailers and brands are making those tablets blend beautifully with store aesthetics using Armodilo's secure tablet enclosures.
The checkout lanes and counters of big retail may still be using big, old-school Point Of Sale (POS) terminals, but if you pay for goods and services at a small chain store or independent business, and there's a good chance your transaction will be processed on a tablet or iPad POS.
Tablet POS systems can cost up to 85% less than traditional PC-based POS systems, while offering more functionality using less counter space. At the same time, tablet kiosks help retail brands offer better user experiences to everyday consumers, just by using the same interface as their own phones and tablets.
An unprotected and unsecured tablet on a counter won't work for long in a high-traffic retail or commercial environment. The engines  driving your retail business needs to be secured in place in durable, secure Armodilo tablet enclosures and mounts that look great on the counter and will stand up to heavy daily use. Our case studies and inspiration page will inspire you with uses of tablets and iPad kiosks in retail environments.
Hospitality

Hospitality

Retail

Branded Banking Experiences Coopeservidores Credit Union was founded in 1957 to stimulate savings and personal credit and solidarity, to facilitate credit at reasonable rates, and to encourage coop...
Retail

Augmented Reality in Retail Tablet Kiosks With their mission to provide top-notch augmented reality interfaces to improve retail experiences across the beauty industry, Modiface knows the value of ...
Retail

Murad, Los Angeles - Flagship Store Murad embraces a holistic skincare approach in its first flagship a place where customers can learn, try and relax. Integrating Armodilo's Sphere countertop iPad...
Retail
Improving Health Standards for all Canadians The story of IRIS The Visual Group began in 1986 when Dr. Francis Jean opened his first Optometry practice in his hometown of Baie-Comeau, Quebec. Dr. F...
Retail

Fully-Personalized Creations Casevoke is carving a fresh path and pioneering the concept of fully consumer-customizable products and accessories available through a specialty retail environment. Th...
Retail

Getting it Right the First Time Fixt is a wireless repair company located in the Greater Toronto Area (GTA), with eight locations to serve the GTA better. Fixt sets a new standard for cell phone, s...
Retail

Innovative Retail Kiosk As part of unique project for Indiegogo startup Skully, we designed a customized AURA kiosk with a unique helmet holder integrated into the top of the stand. The helmet hold...
Retail

Girls, Dolls, and Play Since its inception in 1986, American Girl has devoted its entire business to celebrating girls. As a wholly owned Mattel subsidiary, American Girl is a top omni-channel mark...
Retail

A simple philosophy Sweet Seven Cannabis Co. started with a vision, create a sleek but modern store experience that caters to both the experienced individual and the first-time user. The team is de...
Retail

Digital Signage for Customer Experience In 1987, Mac's Beer and Wine opened for business. They have offered wide variety of beer, wine & spirits, while providing quality service to their custom...
Retail

In-Store Digital Curation Using Tablets Luxury giant Holt Renfrew isn't missing the boat when it comes to tablet tech. The "showrooming" and "webrooming" battle continues to plague retailers trying...
Retail

Tablets Change The In-Store Experience The retail environment is a highly competitive space, where brands not only compete with each other but with technology to grab the attention of consumers. A ...