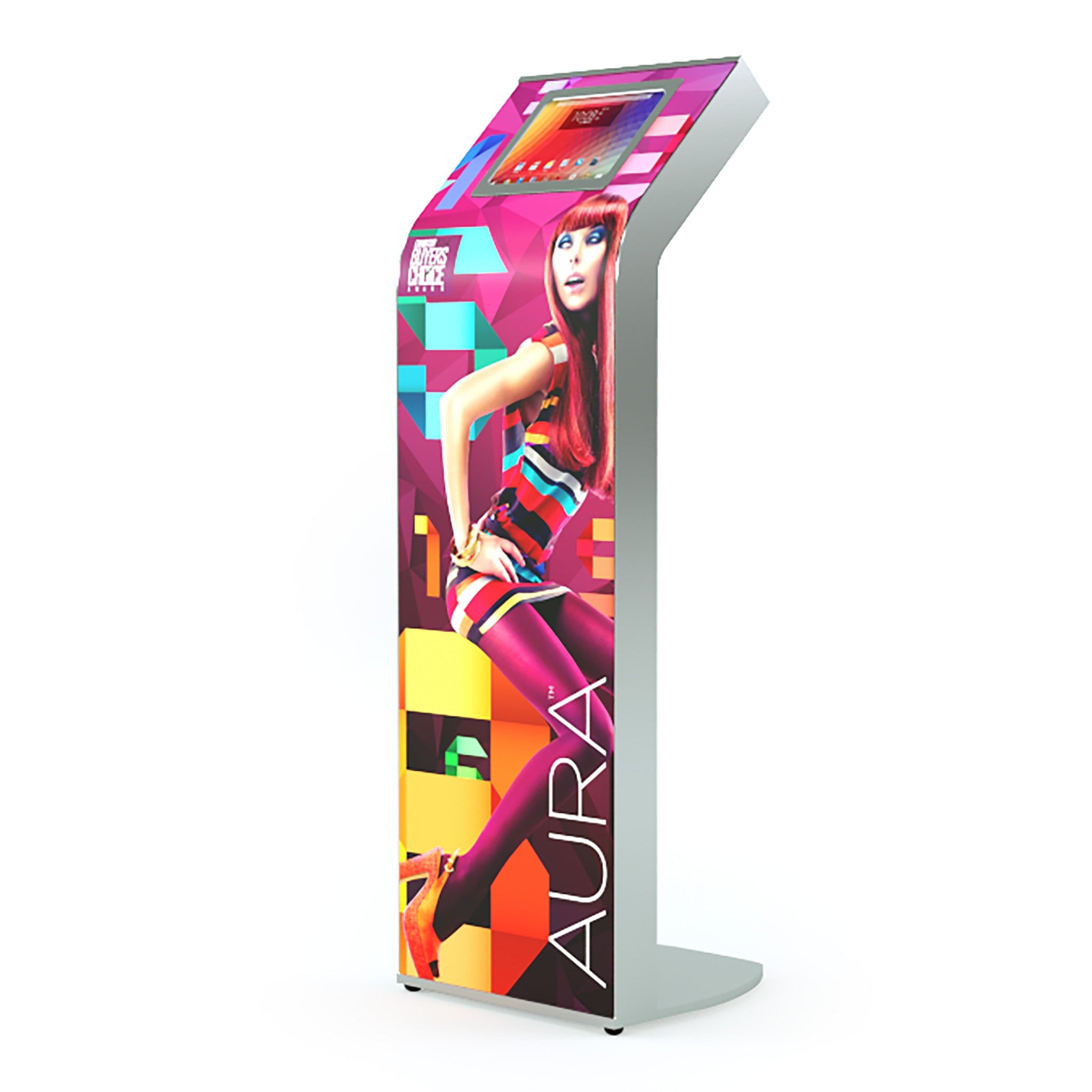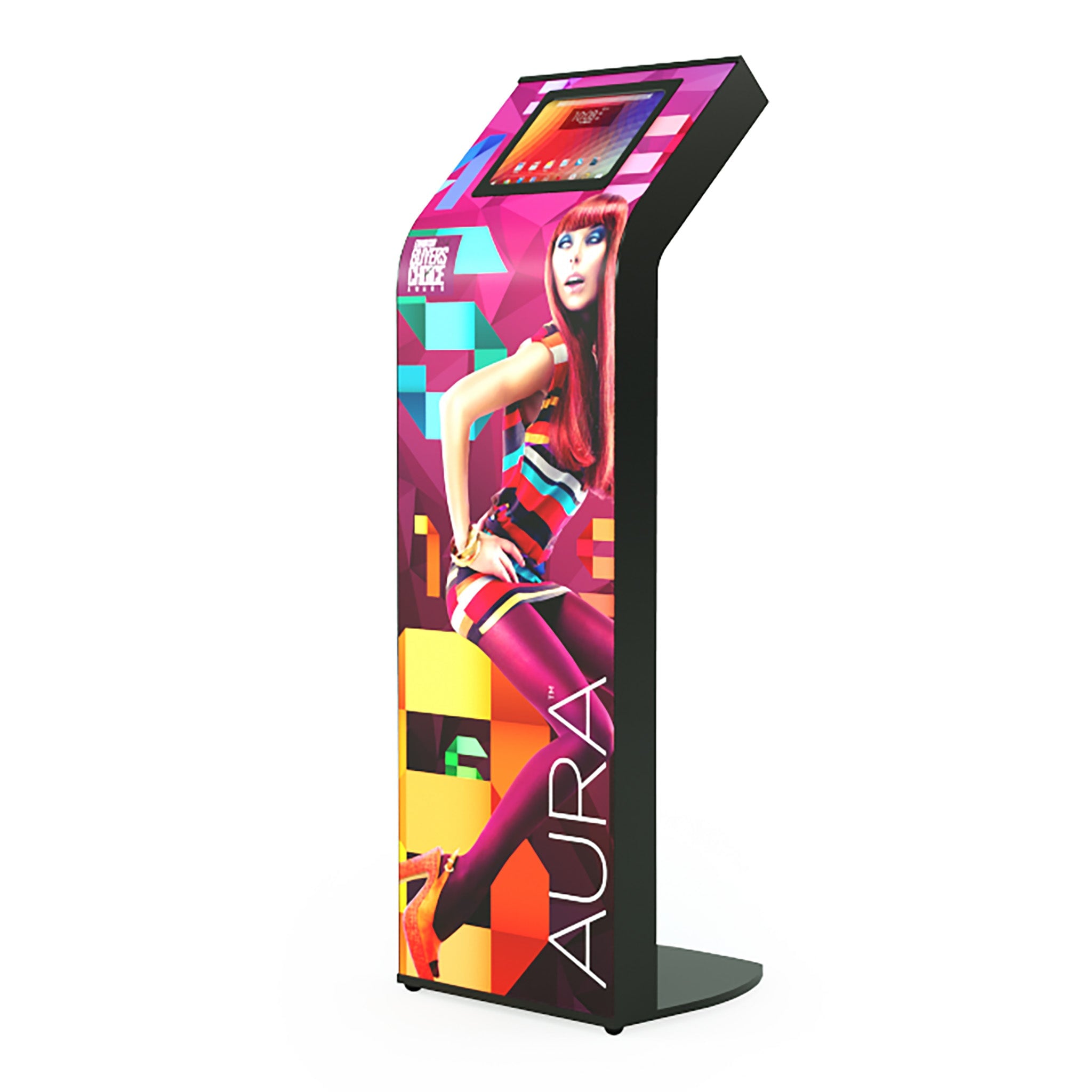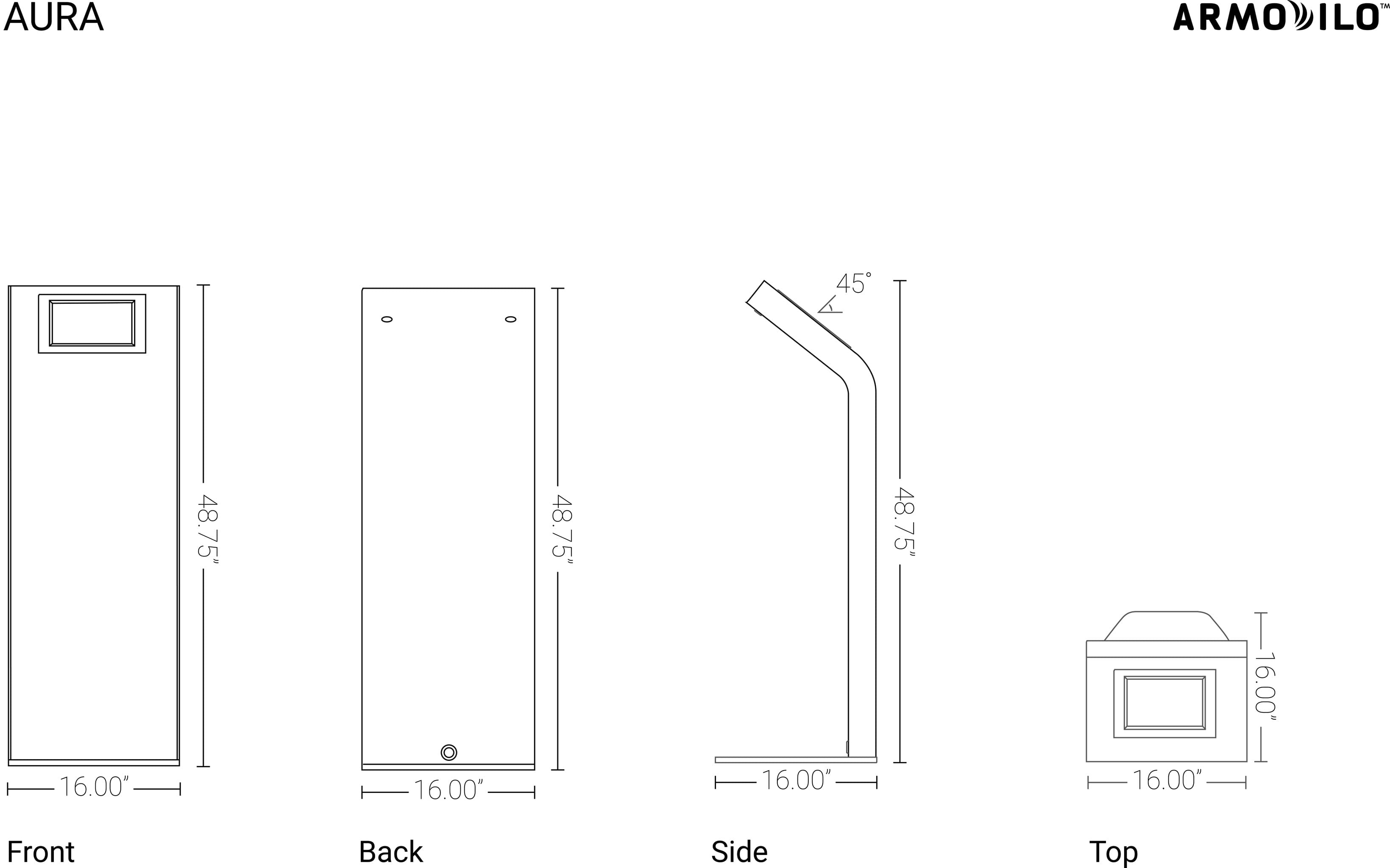 Aura iPad & Tablet Floor Stand
---
*This product has an associated production lead time of approximately six weeks. Please email sales@armodilo.com for more details.
The Armodilo AURA tablet and iPad floor stand kiosk is a top-of-the-line customizable tablet or iPad kiosk system that is sure to make your messaging stand out. This sleek and modern kiosk is perfect for use in a variety of settings, including trade shows, retail, hospitality, and healthcare.
Featuring adjustable backlighting and interchangeable magnetic graphic panels, the AURA gives maximum exposure to your info kiosks, interactive digital signage, and check-in/registration stations. With its quick-change graphic panels, switching kiosk graphics is a breeze, making it easy to keep your messaging up-to-date and on-point.
The AURA's integrated customizable LED back-light system gives your brand the aura and impact it deserves, making it an excellent choice for in-store loyalty programs and campaigns. And with its customizable branding and fully-adjustable LED back lighting, it's no wonder the AURA won an EXHIBITOR Buyer's Choice Award in 2014.
Built with trademark Armodilo quality and an elegant design, the AURA is one of the most attractive tablet display systems in the world. When you see it for yourself, you'll understand why. So why wait? Invest in the Armodilo AURA tablet and iPad floor stand kiosk today and take your messaging to the next level.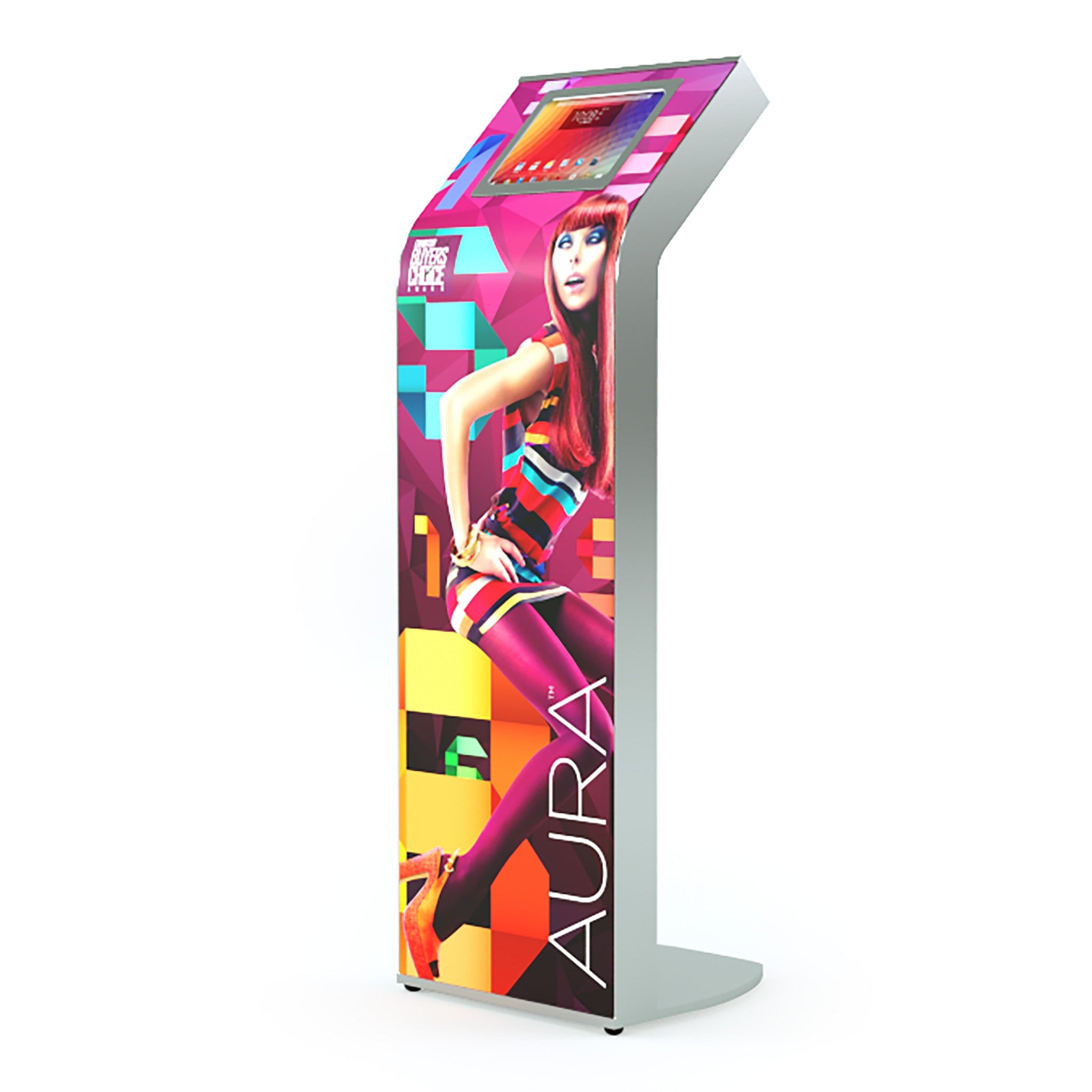 This product has no reviews yet.
• Limited Lifetime Warranty.
• Fully enclosed, all-aluminum tablet & iPad floor stand kiosk.
• Fits most Microsoft Surface and Apple iPad models.
• Integrated LED backlighting.
• Easily changeable magnetized front graphic panels.
• Easily cleaned and disinfected.
• ADA Compliant Design.
• Highly secure tablet mounting using Armodilo tablet carrier and integrated key locks.
• Fully integrated electrical components with a free plug for tablet charging.
100% Aluminum Construction
Let's face it: a kiosk this beautiful is an investment. Every detail of the AURA iPad kiosk stand has been carefully designed to make the most robustly constructed and secure tablet and iPad kiosk possible. High quality, machined all aluminum side rails provide crucial rigidity to the entire system while the aluminum base and back cover keep the overall weight to a minimum. In whichever environment you install it, precision construction and assembly make the AURA striking to look at and even more attractive to touch.

With its unique quick-change magnetic graphic panels, the AURA is an incredibly flexible branded tablet and iPad stand. Gone are the days of misaligned graphics or clings and fabrics that bunch and get dirty. You can purchase quick change graphic panels directly from Armodilo or handle their production yourself. Thanks to our latex-based printing technology, you can take advantage of vibrant, high-quality graphics that stay crisp even when back-lit. We print the graphic on a high quality vinyl which we then apply to a translucent styrene, creating tough and beautiful branding for your kiosk.
The AURA kiosk's innovative back-light system enhances the visibility of kiosk panel graphics in light or dark settings. What's more, the integrated LED back-light system can be custom-set from light temperatures between 2500˚K to 7500˚K so you can match the colour temperature and brightness of the AURA kiosk's lighting to the specific conditions of the installation environment. Adjust from dim back lighting for a subtle effect to full brightness for vivid and stunning graphics that demand attention. Each back-light system is rated for 60,000 hours of use and is UL & CE certified.

A Fully-Powered Tablet Kiosk

Each AURA tablet and iPad stand kiosk comes with an integrated electrical box that provides an internal outlet to plug in and power any tablet with no need to add clutter to your interactive spaces with extension cords or splitters.

• Precision machined aluminum tablet/iPad kiosk stand (aluminum sides, base and backer, break-resistant clear front panel).
• Integrated, adjustable LED side and bottom light strips.
• Integrated rare earth magnets to hold graphic panes.
• Remote control for LED lights.
• Modular electrical box with free outlet for tablet charging (ESA certified - CDN).
• 2 key locks & keys.
• 1 backlightable latex printed graphic panel with metal strips (printed with your artwork).
• Setup instructions.
Customize your Aura iPad and tablet enclosure with the right options for your project. We're confident that the Aura meets the needs of any project.
Have questions? Get answers about all of our products before you buy. Call us at
1.800.975.5946 to talk to a knowledgeable customer service representative today or
reach us using our live chat service.